JDC Construction Ltd.
Mount Seaton, Camolin,
Enniscorthy, Co. Wexford.
Wicklow Address
Farm Lane, Crowe Abbey, Greystones, Co Wicklow
Tel / Fax: 053 9389018
Mobile: 087 2100843
Email: info@jdcc.ie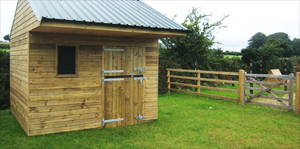 We cater for the equine industry as well as the smallholder. Stables can range from a single unit to a complete stable block from the foundations to installing electrics and plumbing, our aim is to ensure that the stables you get from us suit your needs and guarantee all work is carried out to a very high standard.
As well as building new stables from either timber or blocks we can also build
American Barns
field shelters
timber
steel internal partitions
stable doors
goat houses
pig arks.
We also supply JFC plastic products. e.g. feeders and drinking bowls
We quote from plans provided and can offer advice where required as we have over twenty years experience in the building trade. Why not contact us for a FREE QUOTE today on 053 9389018 our email us at info@jdcc.ie