JDC Construction Ltd.
Mount Seaton, Camolin,
Enniscorthy, Co. Wexford.
Wicklow Address
Farm Lane, Crowe Abbey, Greystones, Co Wicklow
Tel / Fax: 053 9389018
Mobile: 087 2100843
Email: info@jdcc.ie
Self Build / House Extensions & Renovations

Extenting or renovating your home can easily be as rewarding as moving to a bigger home or building a new house.
JDC Construction Ltd. have extensive experience in this area and can offer great advice on the possibilities of improving what you already have.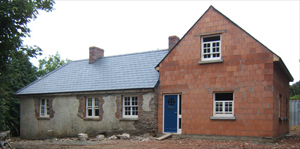 Extend your existing home and create that extra space and add value to your home. We carry out work to all our clients specifications.
No matter what, how big or small your project from a modern office area or extra living space built to suit your needs just call us at 053 939018 our email us at info@jdcc.ie where our flexible, innovative approach and attention to detail is a guarantee of quality, accuracy and compliance with building regulations.
Types of work we do
Kitchens / Extensions / Renovations
Extra space for bedrooms & Garages
Swimming pools
Ground works
Renovations of old buildings
Extensions to present buildings
Partial Building
Painting to the highest standard of craftmanship
Tiling- Floors, Walls, Roofs
Attic Conversions- for that extra room / modern office
Floor Pouring
Block Work
Plastering
Roofing
2nd Fix - electrical, cable..
Let JDC Construction build your new dream home.
We quote from plans provided and can offer advice where required as we have over twenty years experience in the building trade. Why not contact us for a FREE QUOTE today on 053 9389018 our email us at info@jdcc.ie